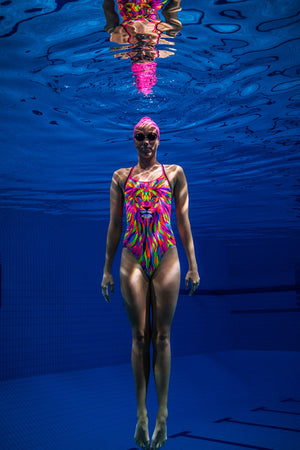 水泳大国オーストラリア・メルボルン発
カラフルでユニークなデザインで魅せる アスリートによるアスリートのためのスイムウェア
MISSION
FUNKITAのミッションは、水中でも陸上でも、大胆でカラフルなプリントであなたの毎日を楽しく彩り、高い耐久性と快適なスタイルでハードなワークアウトを可能にすること。世界チャンピオンから、世界を夢見る選手たち、そして日常でスイミングを楽しむ方々まで、全てのアスリートに寄り添った製品をお届けします。
ABOUT
Swimwear brand from Melbourne, Australia!
Since its release in 2004, it has attracted swimmers around the world with unique swimwear that combines "colorful and fashionable design", "comfortable use", and "chlorine resistance and high durability".
クリエイティブ専門のデザインチームが作る!
FUNKITAはユニークで斬新なデザインを生み出し続けます。チームの多くはスイマーが中心です!
STAFF
Brands run by swimmers
At the head office of FUNKITA in Melbourne, products are made with the first consideration of "what athletes want". The reason this is possible is because FUNKITA is a company run by swimmers. The staff who fully understand the feelings of athletes pour the best sense and creativity into all products.
練習道具やフィットネスウェアまで
リュック、タオル、メッシュバック、ゴーグルなどのアクセサリーを始め、Tシャツや短パンなどアパレルもラインナップ!
PRODUCT
Abundant product lineup
Furthermore, in addition to swimwear, the high-performance activewear for gym and dryland training, Funkita
We have a lineup of various products such as the Fit series, apparel, and accessories.
The appeal of FUNKITA
What is the appeal of Fankita?

- Creativity created by a dedicated creator team and commitment to high quality from the player's perspective -
STYLE
A new form of competitive swimsuit that overturns common sense
FUNKITA swimwear allows you to choose not only the design, but also the shape. We offer a wide variety of swimsuits, such as those that tie straps on the back and separate swimsuits.
design
Bold and colorful! Original print that makes you feel good
Speaking of FUNKITA, colorful, unique and artistic prints! A team of specialized designers pursues the "fun" of swimmers and designs each one. You might be the star of the pool with this bright and eye-catching swimsuit! ? Swimwear that will make you want to go to the pool.
quality
Resistant to chlorine and sunlight! Outstanding durability
The fabric of the swimsuit is made of high-quality Italian polyester material "C-infinity". It is a high-quality material that is highly resistant to pool chlorine and sunlight, and does not fade easily. It is hard to lose its shape, has excellent durability, and is extremely comfortable to wear. A swimsuit that you can use for a long time.
Fun to choose
Fun to choose! Choose your favorite one from various styles.
At FUNKITA, we have a wide variety of swimsuits. In particular, it has a wide variety of back styles, and has a reputation for being "a cool design like no other." Not only can it be used as a competitive swimsuit for practice, but it is also recommended for everyday use such as the beach or leisure pool. You will surely find your favorite!
FUNKITA / FUNKY TRUNKS Swimmer's voice
★★★★★

Anyway, a cool swimsuit that "shines". I wear them together with my team members.

Junichi Morita

swimming coach/swimmer
★★★★★

There are various designs on the back, so cute! Swimsuits for practice are all Fankita.

Masako Kuroki

swimming coach/swimmer
★★★★★

It looks great even in the water! The flashy feeling is irresistibly cute!

Shiho Matsuda

fin swimmer
★★★★★

I'm always looking forward to new works from FUNKITA! My favorite is the purple swimsuit!

Nana Takatsu

fin swimmer
★★★★★

Flashy design increases tension and motivation! One of the attractions of FUNKY TRUNKS is that there are various types with the same design!

Shusuke Toyama

fin swimmer